Lets Tackle Climate Change Together
Lets Tackle Climate Change Together
Posted by Wilhelmina Perry
Members of PACT share their experiences of pollution in London and why they have joined Citizens UK's campaign to make London carbon-neutral by 2030. 
If we want to tackle Climate Change and reduce pollution we need to work together and get creative, so keep reading to hear from PACT leaders and join our creativity challenge.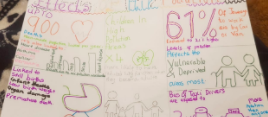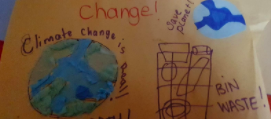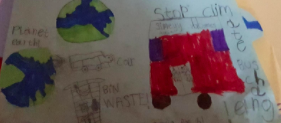 Soraya
My son is 3 years old.  He has been in and out of hospital with breathing difficulties since 8 months old.  He is on asthma medication daily.  We live near Walworth Road, one of London's main through roads.  It is congested every single day and there are recurring road works, which bring the whole traffic to a standstill.  Cars and buses keep their engines on which exacerbate pollution levels. The Government and the Mayor of London have pledged their commitment to cleaner air and a drastic reduction in emissions, but I just don't believe that it will happen in my lifetime unless we citizens stand united and demand a radical shift. Soraya is a parent leader at PACT and is currently campaigning with London Citizens to ensure that London is carbon neutral by 2030.
Ola
My son has had breathing problems for the last few years and was diagnosed with adenoids and asthma. We have been living in one overcrowded room for four years despite his respiratory illness. I am told there is still no cure for my son except surgery, but they need to improve living conditions. Air pollution in the streets of London is causing respiratory illness in children and the vulnerable. We need to increase awareness. WHO director Dr Tedros Adhanom called air pollution "a silent public health emergency " and this is especially true in London. The Mayor of London needs to adhere to the people's cry for help. Ola is a parent leader at PACT and has joined this campaign to ensure that the necessary changes London must make to combat the climate crisis will improve living standards for all.
Eunice
Climate change and air pollution affect the development of our children. Kids who have asthma have a hard time breathing. As a mother I am so concerned as my daughter has been diagnosed with asthma and cannot even run with her friends without coughing her chest out. After my daughter was born my neighbours would burn their rubbish and her little lungs would breathe in the fumes, just as she breaths in the fumes from cars that pollute the roads. I am also worried about mould in my home and how this affects her breathing. I cry every day as she wakes up and starts to sneeze twenty times before going to school. Eunice is campaigning with London Citizens to ensure that responses to climate change empower those most affected.
Maryrose
It's hard to explain what's it like not being able to breathe properly, you feel tired all the time, everything seems like an effort. Your memory isn't as good as it should be; you become weaker, slowly. You feel wary about spring pollen, walking near traffic, smoke, cooking, fires, candles, aerosols. No one can see you are vulnerable; you look the same. Something as simple as breath in breath out, you used to take it for granted. Now running, lifting, swimming, working physically hard is just not possible.
I have lived in Brixton for 35 years. Same house on a busy road leading to a main arterial road, there is constant traffic front and back. I walked my children to school twice a day, shopped, went to the park and walked to the tube every day for 35 years. The traffic has got worse and worse, you can taste the fumes, smell it, and see it. It's on your skin, your hair and building up every day in your lungs. You can wash it off on the outside but on the inside, it causes permanent damage. I now only have 60% capacity of my lungs left, I can't get that 40% back, I am permanently on drugs and I can only remember what it feels like to breathe normally. I worry for my children; all children, I can't understand why we don't do something about it. It's too late for me but not for you. Maryrose has volunteered with PACT to provide workshops on Art and making, she has joined London Citizens' campaign in the hopes that sharing her story will prevent further children from suffering due to pollution.
Lara
My name is Lara and my mum and I are members of PACT. In my opinion, climate change is important to me because it can affect people's health, especially those who suffer from skin or breathing problems like eczema and asthma. I have eczema and when it gets very hot or too cold my skin dry out so much I feel scratching and itchy all over my body. This feeling is not nice, sometimes it gets so bad I scratch without even thinking until I bleed and I get an infection on my skin. Imagine if you were me going through this problem! I feel there's nothing that can make it better and it makes me cry sometimes. Sometimes I don't like my skin as it is patchy red or rough. Please help us stop the world from destroying itself and join the climate change campaign. What you do now affects children's future.
Kids' Creativity Challenge:
With their very own Climate Change poster Lara and Okubo-ere have launched PACT's first creativity challenge.

Posted by Ana Ramirez Mourraille on 2 Apr, 2021