Josephine and Becket get their COVID-19 Vaccinations!
Josephine and Becket get their COVID-19 Vaccinations!
Posted by Wilhelmina Perry
Josephine had her first vaccine last week 
With the new vaccine rolling out, members of the PACT community have started to receive their first vaccine. Josephine and Becket share their experiences getting the vaccine so that you know it is safe and you know what to expect. 
If you have any COVID vaccine questions and are looking for more information, make sure to follow the links below for two great COVID vaccine information events: 'Let's Talk about the Vaccine' (Monday 1st March 6pm-7:30pm) and the COVID Vaccine Briefing (Wednesday 2rd March 2pm-3pm). 
Si estás buscando información sobre la vacuna contra el coronavirus en español, siga leyendo para conocer los detalles de un gran evento que tendrá lugar mañana de 12:30- 13:30.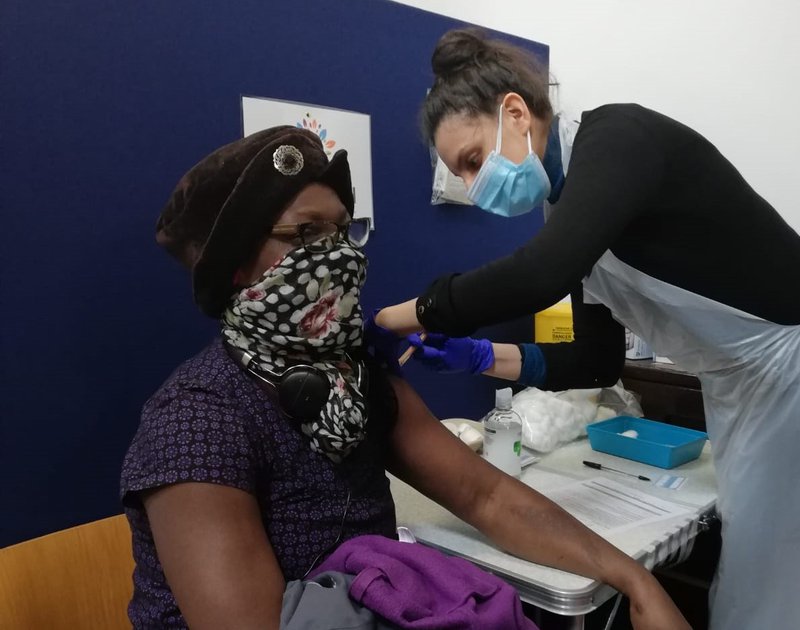 Josephine gets her COVID-19 Vaccination!
This last Saturday, I was surprised to turn my phone on and find a text message from Lambeth offering me a vaccination appointment on the same day! I had to make a decision and, at that moment, booking an appointment for the COVID-19 vaccination felt like the right one. So I did, and it was all very efficient and even with my fear of needles, it was fairly painless.
Since then, I have felt a little sore at the sight of the injection but nothing more! I even managed to go for a gentle jog this morning and bumped into Layla in Brockwell Park!
Reflecting on it now, I was motivated firstly by the thought of possibly being able to visit my family back home. I usually visit around this time and I am feeling a bit homesick. If I am vaccinated, then once travel abroad resumes, I can go and see my family😊
But secondly, whatever health concerns I face, I always seek advice and treatment from my doctor so in a way I already trust science. My children received all their immunisation jabs and in reality, I don't think this is different. I even attended a briefing arranged by the GLA and Public Health England where Prof. Kevin Fenton (one of the most senior black doctors at PHE) gave us reassurances about the vaccine.
Lastly, I feel so lucky to be alive given the thousands of people (including a dear friend) who have died from coronavirus. I want to do everything I can to be around as my children get older and I would not forgive myself if I was to succumb to corona after rejecting the vaccination!
I know there are lots of theories going around about the vaccines. Many people are not sure whether it is safe to take the vaccine and that is completely understandable. If you are worried, please contact your GP or try and attend the session above.
I also watched this recording towards the end of last year and you might find it useful too: COVID-19 Myths and Reality with Dr Onyema-Ogbuagu
Do you have any COVID vaccine Questions?
Join these COVID vaccine information events:
1.    Sábado 27 de febrero 12: 30-13: 30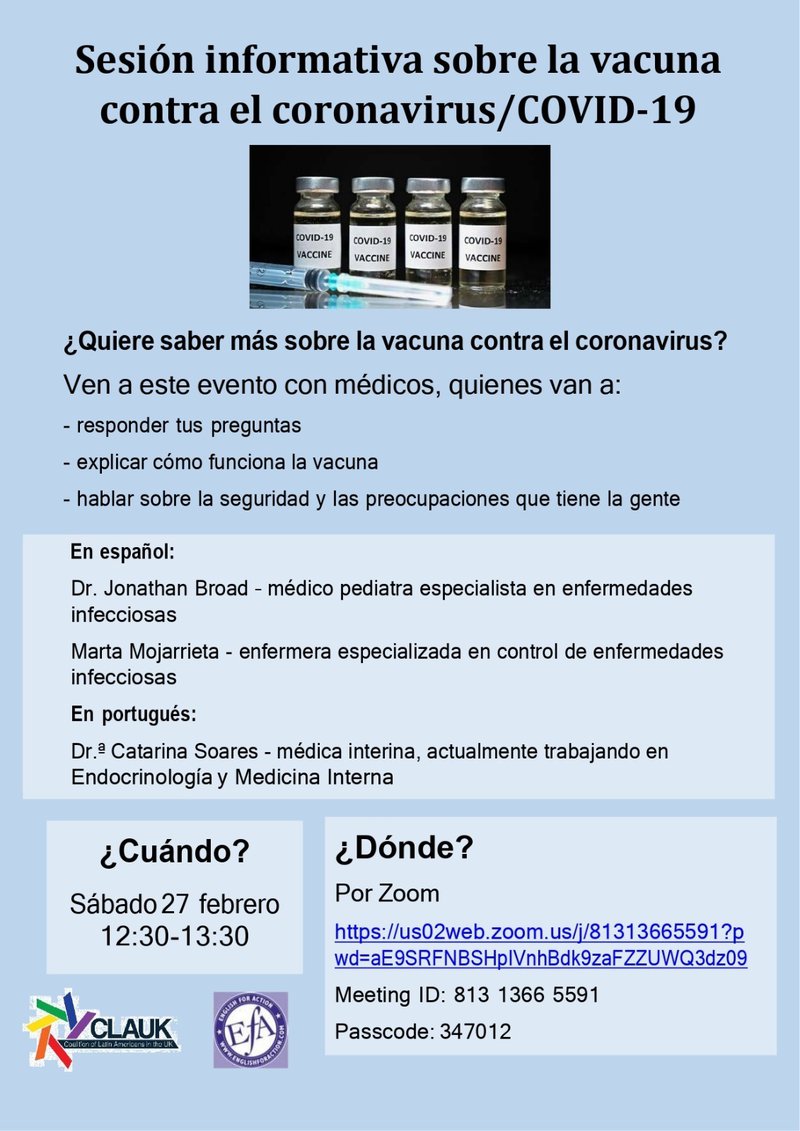 2.  Monday 1st March 6 pm - 7:30 pm - Let's Talk about the Vaccine Event
Are you worried about the Covid-19 vaccine? Do you have questions about the vaccine? Are you thinking you might not take the vaccine?
If the answer is yes, we would love to hear from you. We want to listen to your concerns and we want to try to answer your questions.
Please join us at our free online community event, where our panel will share information about the vaccine and will try to answer the questions you have. The panel will include people from the council, Public Health England, the NHS, and from faith organisations.
Book a FREE place here.

3.  Wednesday 3rd March, 2 pm - 3 pm - COVID-19 Vaccination Briefing 
'NHS South East London CCG are delighted to invite you to a third Covid-19 vaccination briefing hosted by Jessica Arnold, Director of Flu and Covid Vaccinations.
This meeting will take place online via Microsoft Teams.
This briefing will continue discussions around the current Covid-19 vaccine programme across south east London and is specifically for the voluntary sector across south east London (Bexley, Bromley, Greenwich, Lambeth, Lewisham and Southwark).
NHS South East London CCG are also keen to understand any issues about the vaccine that you are aware of amongst your community and your views on the best ways to communicate correct information to your communities. There is space on the booking link to outline these.'
Book a FREE place, here.
Posted by Ana Ramirez Mourraille on 18 Feb, 2021