Great Summer Snacks for Children / Super refrigerios veránales para niñas y niños
Great Summer Snacks for Children / Super refrigerios veraniegos para niñas y niños
Posted by Layla Meerloo
Mena and Grace show us how to make frozen snacks with our children / Mena y Grace nos enseñan como hacer refrigerios congelados con nuestras hijas/hijos
Cheap, tasty and easy to make / Económicos, deliciosos y fáciles de hacer
Healthy option with fruit, vegetables and no sugar / Opción saludable con fruta, verdura y sin azúcar
Fun to make with your children / Divertido hacerlo con sus hijos
Frozen Kebabs / Kebab Congelado
Children seem to love eating anything on a stick and frozen makes everything more fun!
¡Parece que agregar un palito a cualquier comida les fascina a las niñas y niños y cosas congeladas siempre son más divertidas!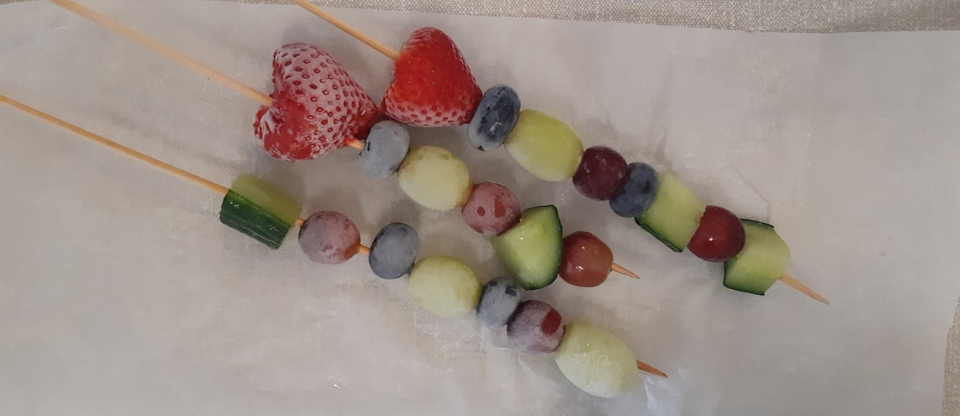 Ingredients / Ingredientes:
Grapes / Uvas
Strawberries / Fresas
Blueberries / Arándano
Watermelon / Sandia
Cucumber / Pepino
Any fruit or veg you like! / ¡Cualquier fruta o verdura te les guste!
Instructions / Instrucciones:
1- Clean and chop the fruit and vegetables into small shapes / Lava y pica la fruta y verdura en trozos pequeños
While you do it chat to your child about the names of the fruit, colours and shapes. Describe how they feel and what you are doing. Count the pieces of fruit…
Mientras lo haces puedes hablar con tu hija/hijo acerca de los nombres de la fruta, colores y formas. Describe como se sienten y que estas haciendo. Cuenta las piezas de fruta.
2- Help your child to put them on a wooden skewer. If you don't have a skewer you can / Ayuda a tu hijo ponerlo en una brocheta de madera. Si no tienes una brocheta puedes:
Put large pieces of fruit on a fork like a lolly / Poner piezas grandes de fruta en un tenedor como una paleta
Place pieces of fruit in ice cube trays / Pon piezas de fruta en un molde de hielo
Put a mixture of fruit in a cup / Pon las piezas en un vaso
3- Put it in the freezer until frozen / Pon en el congelador hasta estar congelado
Spinach, Pea and Banana Ice Lolly / Paleta de chícharo, espinacas y plátano
This recipe surprised Grace and her family because it was truly tasty! / ¡Esta receta sorprendió a Grace y su familia porque es verdaderamente rica!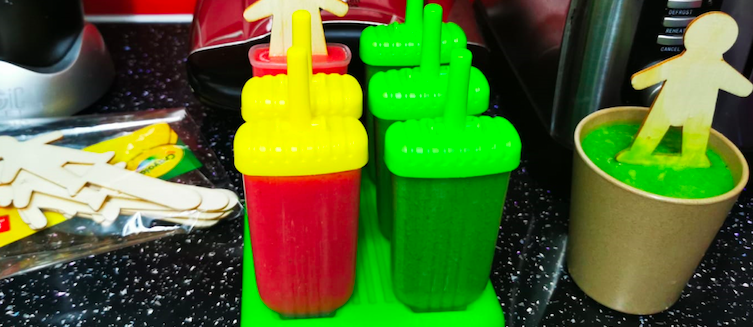 We found this great recipe on a favourite website of mine, My Fussy Eater. We followed the recipe but didn't add any sweetener (honey/maple syrup) because you really don't need it with the sweetness of the banana plus we didn't have any chia seeds! / Encontramos esta receta en una página web preferida mía, My Fussy Eater. Seguimos la receta, pero no agregamos endulzante (miel/jarabe) porque no es necesario con lo dulce de plátano ¡además no teníamos semillas de chía!
Ingredients for 6 lollies/ Ingredientes para 6 paletas:
3 Cups spinach / 3 Tazas de espinacas
2 Bananas / 2 Platanos
1 Cup frozen peas / 1 Taza de chicharos congelados
1 Cup water / 1 Taza de agua
Topping / Guarnición:
Greek yogurt / Yogur griego
Instructions/ Instrucciones:
1- Put all the ingredients into a blender and blitz until smooth / Pon todos los ingredientes en una licuadora y licua hasta que este suave
You can ask your child you help peel the banana, chop it, count the pieces as they put them into the blender, pour the water in, press the button to blend, etc
Puedes pedir a tu hija/hijo ayudar pelar el plátano, picarlo, contar las piezas mientras las ponen en la licuadora, verter el agua, oprimir el botón para licuar, etc.
2- Pour the smoothie mixture into a popsicle mould / Pon la mezcla en un molde de paleta
If you don't have moulds you can use / Si no tienes moldes puedes usar:
A plastic cup / Vaso de plástico
Ice tray / Molde para hielos
Yogurt containers / Bote de yogur
3- Freeze until solid / Pon en el congelador para congelarla
You can dip it in the yogurt to enjoy! / ¡Puedes meter la paleta en el yogur para disfrutar!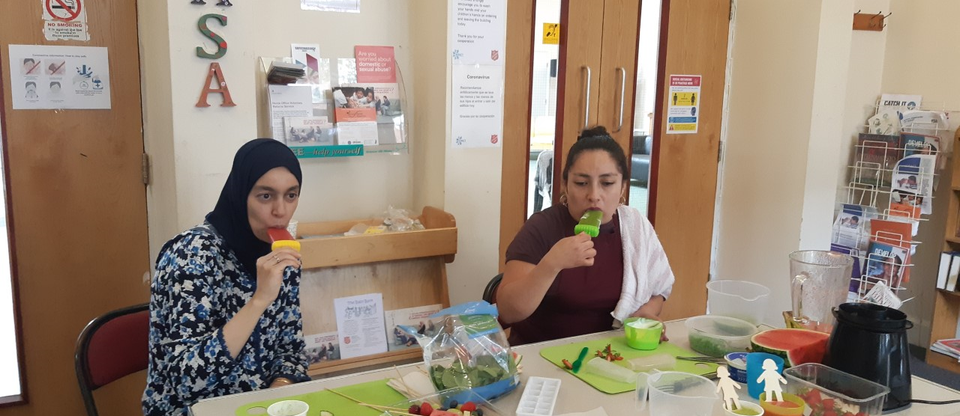 Strawberry and Watermelon Ice lollies / Paletas de hielo de fresa y sandia
You just need strawberry and watermelon and a blender to make these absolutely delicious lollies! / ¡Solo necesitas fresas y sandia y una licuadora para hacer estas paletas deliciosas!
Posted by Ana Ramirez Mourraille on 7 Aug, 2020