Talking to your kids about race and Black British History
Talking to your kids about race and Black British History
Posted by Wilhelmina Perry
Writer and historian David Olusoga presents a series of short films exploring critical moments in Black British history from 1919 that have been forgotten or rarely discussed.
PACT's writing group shares their Summer Reading List focusing on Black British History and guides to talk to your children about race and discrimination. With some extra time over Summer, it's a great opportunity to learn. This blog includes resources for all ages, with amazing videos, images, podcasts and texts so keep reading!
Explaining Racism to Children 
'It can be hard to talk to your children about racism. Some parents worry about exposing their children to issues like racism and discrimination at an early age. Others shy away from talking about something they themselves might not fully understand or don't feel comfortable discussing. Yet others, especially those who have experienced racism, simply do not have such choices.
Conversations about racism and discrimination will look different for each family. While there is no one-size-fits-all approach, the science is clear: the earlier parents start the conversation with their children the better' (Unicef talking to your kids about racism).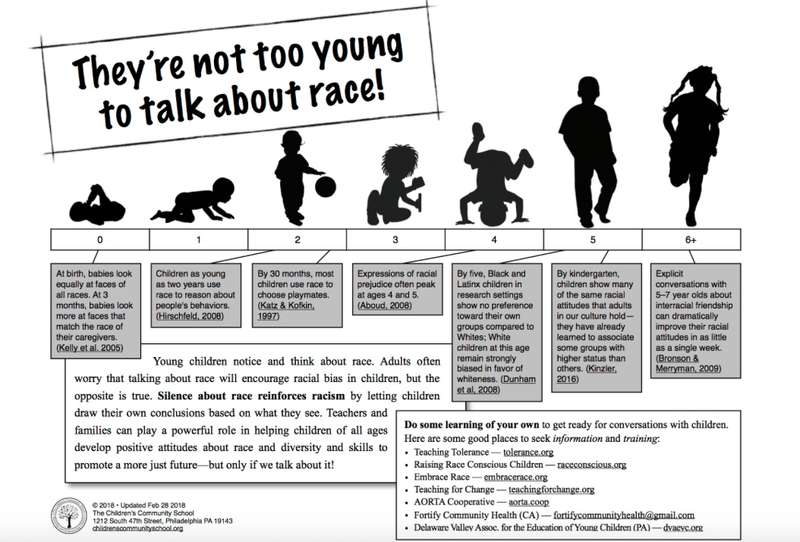 Here is a list of useful resources to guide you :
Tips for Talking with Children About Racism and Social Justice, by Save The Children

"Every child has the right to grow up healthy, educated and safe – regardless of race, gender or socioeconomic status. Systemic change to end racism is essential to achieving this vision." - check out this link for 12 great tips to follow 


The Talk, by Today Explained 

Listen to this great podcast where two mothers talk to their teenage sons about race and police brutality in the United States. 
Black British History
There is an oversimplification of Black British History, potent and valuable black individuals have been consistently forgotten, overlooked and erased' (BBC Stories). 
Black to Life: Rethinking the Black Presence within British History, by Director Akinola Davies for BBC Stories
Here is a list of websites, videos and resources that document the rich history and cultural heritage of Black Britain for all age groups.

For Children:
'The videos on KidsBlackHistory are designed for Early Years/Foundation Stage and Key Stage One. This would typically be ideal for children between the ages of 2 - 7. They provide a catalogue of videos weekly to teach your children positive black history and give them a sense of representation that they are not currently receiving in their school curriculum or in the media.'

They have a catalogue of great videos including Lewis Latimer who invented the lightbulb, The King Mansa Musa and The Mali Empire and Fun Facts about Africa. This is a must-watch resource for your kids!

Willow, Taylor and Stella sit down with their dads to talk about their culture for Black History Month. 

For Families:
'Since 1981 Black Cultural Archives (BCA) has embarked on the journey to collect and preserve materials which redress the historical balance and representation of people of African and Caribbean descent in Britain. Our archive collection is now one of the most comprehensive collections that document the history and cultural heritage of Black Britain.'

With lots of online resources available, there are activities for all age groups. Check out their School Online Learning Programme  for resources for Key stage 1 - 5 (ages 5 - 18) 

You could also check out their Google Arts and Culture Platform

Check out their Windrush Waves competition for young creatives: 'We are inviting 14–21-year-olds to respond to the story of the Windrush Generation through art, music and poetry, to highlight this significant part of Britain's history and present. Our friends poet Ragz-CV, musician Rodney P, artist Linett Kamala and photographer Joy Gregory will make a shortlist of their favourites.'

A list of upcoming events can be found here.


If you are looking for up to date news, historical features about Black British History, job opportunities, training and a list of amazing online events, this online magazine is a must-read. 
'Akala is a BAFTA and MOBO award-winning hip hop artist, bestselling author and social entrepreneur, as well as the co-founder of The Hip Hop Shakespeare Company.' Check out his youtube series where he reads different chapters from his book 'Natives: Race and Class in the ruins of the British Empire'.

Books you can buy:
If you are interested in buying some books here are two great reading lists for children and for adults.
Posted by Ana Ramirez Mourraille on 27 Jul, 2020