SUMMER ACTIVITIES FOR FAMILIES/ ACTIVIDADES DE VERANO PARA FAMILIAS
SUMMER ACTIVITIES FOR YOUR FAMILY
Our PACT groups will not be running during August but there are lots of local activities going on.
For some of them you MIGHT NEED TO BOOK in advance to have a place so check them out today!
Nuestros grupos de PACT no se ejecutarán durante el mes de agosto, pero hay muchas actividades locales en marcha.
Para algunos de ellos, TIENE QUE RESERVAR con anticipación para tener un lugar, ¡así que revíselos hoy! Algunos de ellos estan en Ingles asi que nesecitara la ayuda de Google translate para poder llenarlos.
Children and Family Centres ( families with babies/under 5's. )
Here are some Children and Family Centres we recommend you to check their programs for summertime. Click on each one to see the timetable.
1st Place (Walworth/Elephant area)
WILD WORLD HEROES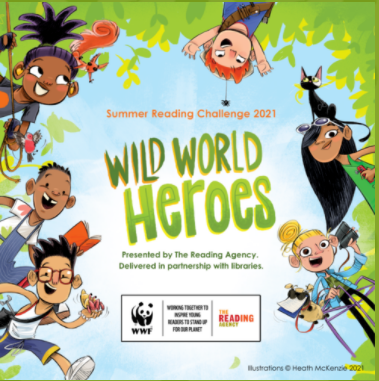 The Summer Reading Challenge and Winter Mini Challenge website helps you keep track of your reading all year round. Find new book recommendations, take part in mini-challenges, play games, and more!. To find out more information click here
SOUTHWARK'S SUMMER OF FOOD AND FUN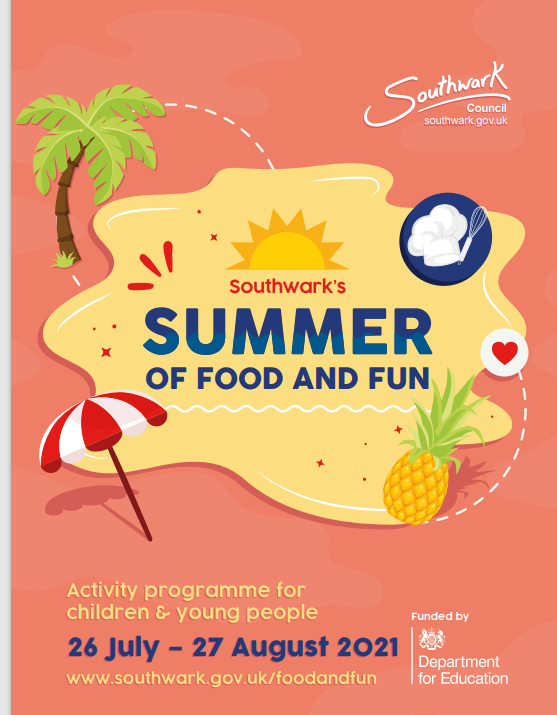 Check out here a list of Southwark's Summer of Food & Fun of local Activities taking place in Southwark for children & young people from 26th July- 27th August 2021. You have to contact the providers to sign up and secure your place.
NETBALL CAMP KENNINGTON
If you would like your child to participate in Netball there are some sessions taking place in Kennington Park. Sesions cost £25 per day and you need to book your place by email: polly@netballcoachuk.com or visit link.
SUMMER OF PLAY- YOUTH ACTIVITIES IN SOUTHWARK
Southwark's physical activity team will be running four weeks of FREE sport and physical activity sessions funded by the Department for Education between Monday 3 August to Sunday 29 August 2021 for young people aged 12-16. To check out the places available click here.
50 THINGS TO DO BEFORE YOU ARE FIVE APP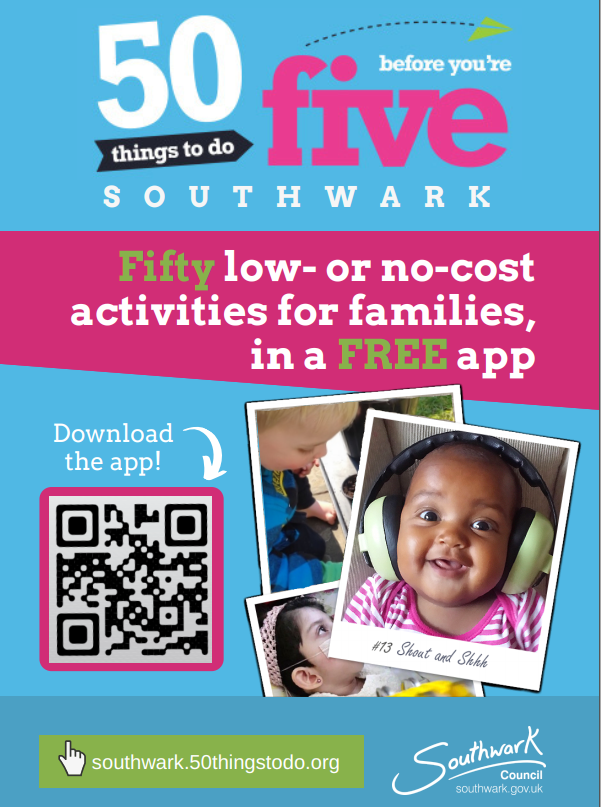 This app has exciting activities for families in Southwark with young children, giving them great suggestions for how to have fun and learn at the same time. To download the app go to the following link.
CENTRAL SOUTHWARK COMMUNITY/SPRING HUB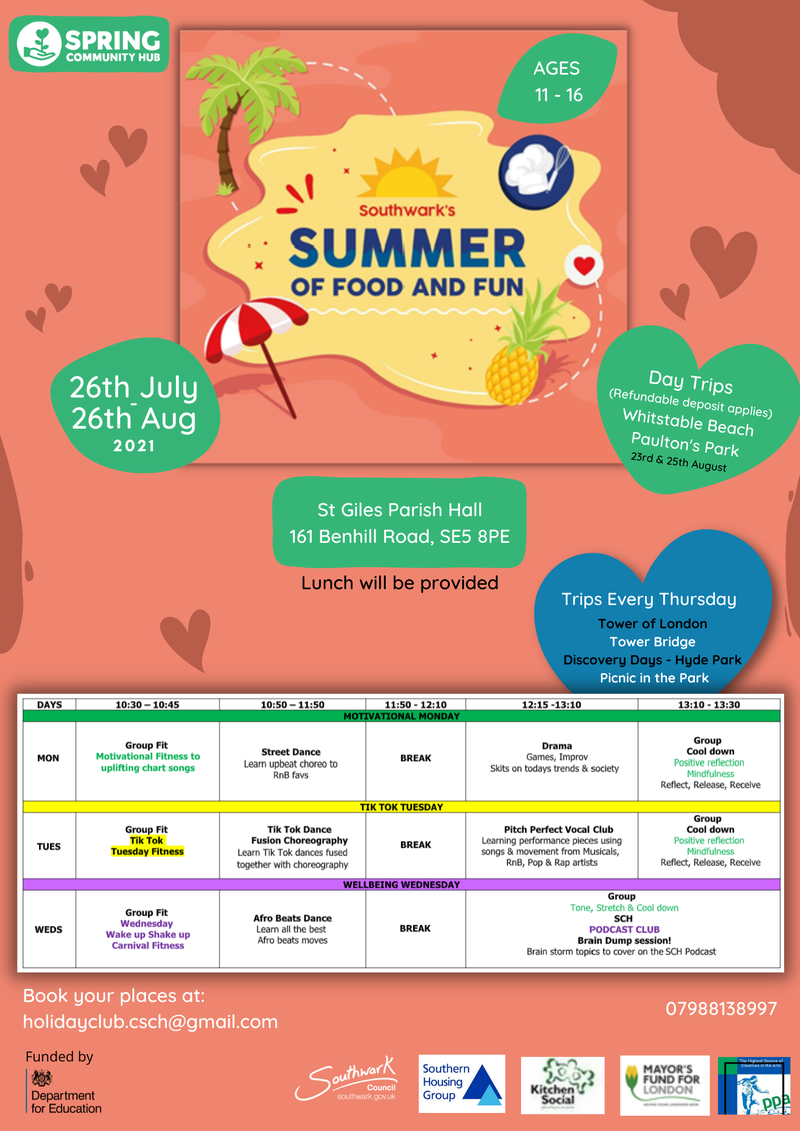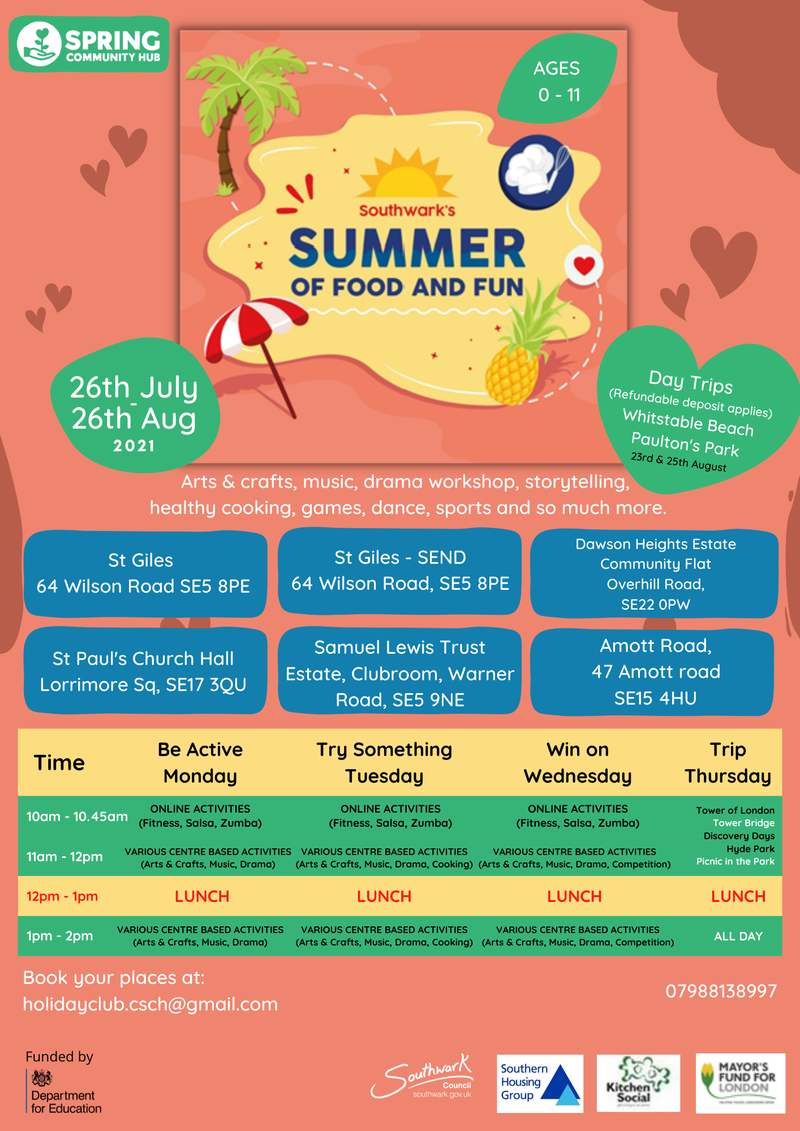 Spring Community Hub has organised some activities during the summer for families, it includes a trip to the beach!! If you are interested in volunteer also with your children you can email at volunteer1.csch@gmail.com. Please check out the poster for more details and how to book a place.
Si hablas español y quieres ser parte de las actividades puedes enviar un email o mensaje de texto diciendo "Hablo español y quiero unirme al Summer Family Activities" y un miembro del personal se encargará de llamarte en español. Además, en cada grupo habrá alguien que habla español.
FAMILY FUN, LET'S DO LONDON!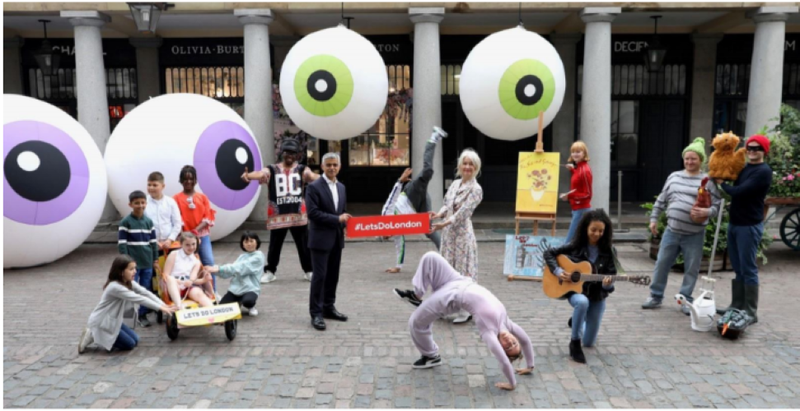 The Mayor of London is inviting families across London to participate in events taking place during the summertime. To see the activities click here
EVELINA LONDON COMMUNITY FOOD WORKER- Starting Solid Foods Sessions ONLINE!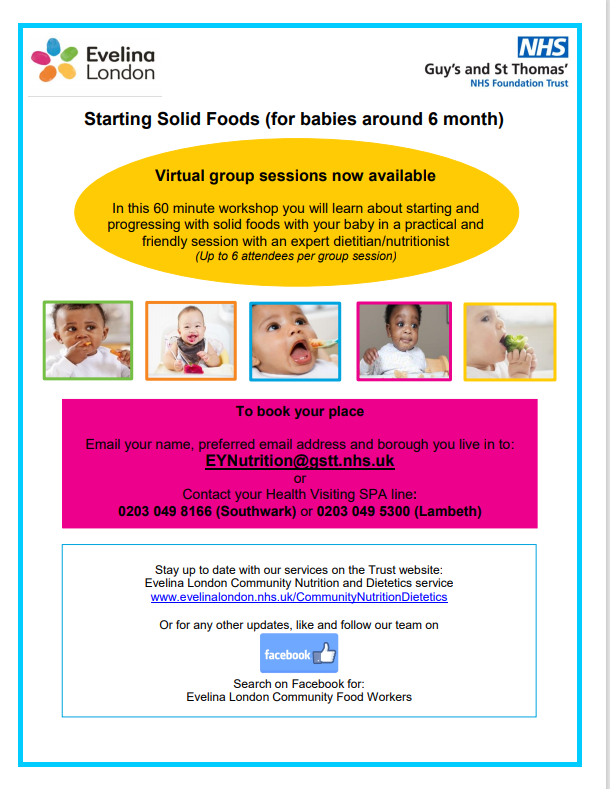 Evelina London is going to run sessions about "Starting Solid Foods" across Lambeth and Southwark. You will be learning everything you need to start solids with your baby as well as practical advice such as information on the Free-D scheme, Healthy Start voucher scheme, oral health, and food safety and hygiene. To book your place email your name, email address, and borough you live at EYNutrition@gstt.nhs.uk.
ELEPHANT AND CASTLE COMMUNITY HUB -ONLINE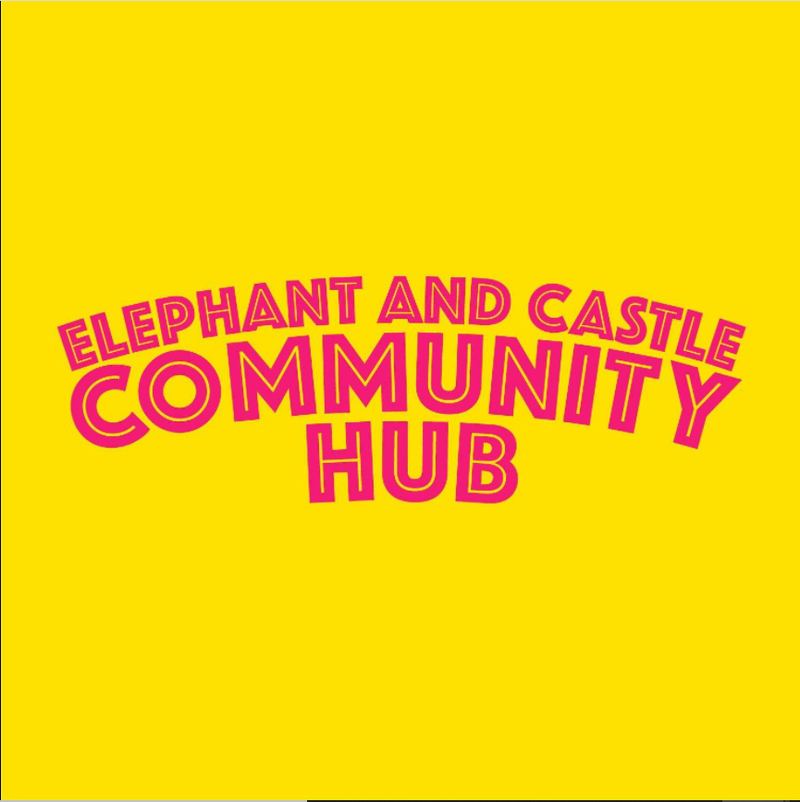 Elephant and Castle Community Hub are running different activities during summer. One of them will be on the 18th of July Summer Party Online, click here to see more information. Additionally, they will run every Thursday fun and friendly creative classes at Kids Creation Station. To see more information and register click here.
BEACH TRIPS YOU CAN DO ON THE TRAIN
There are many beaches you can visit this summer but here are two we recommend and are easy to get to by train. If you travel with another family you may also be able to save money with GroupSave discounted train tickets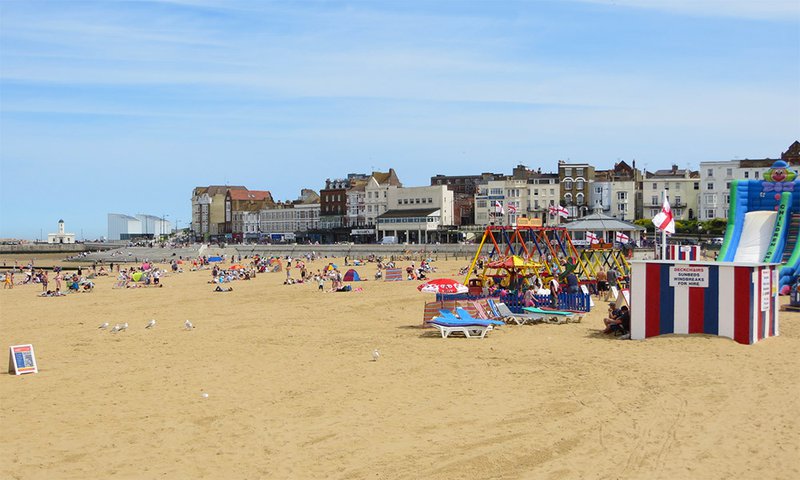 Margate
Margate has a sandy beach and other attractions including the Dreamland Amusement park, art gallery, museum and shops!
You can get the train to Margate from London Victoria or London St Pancras stations and the station is next to the beach.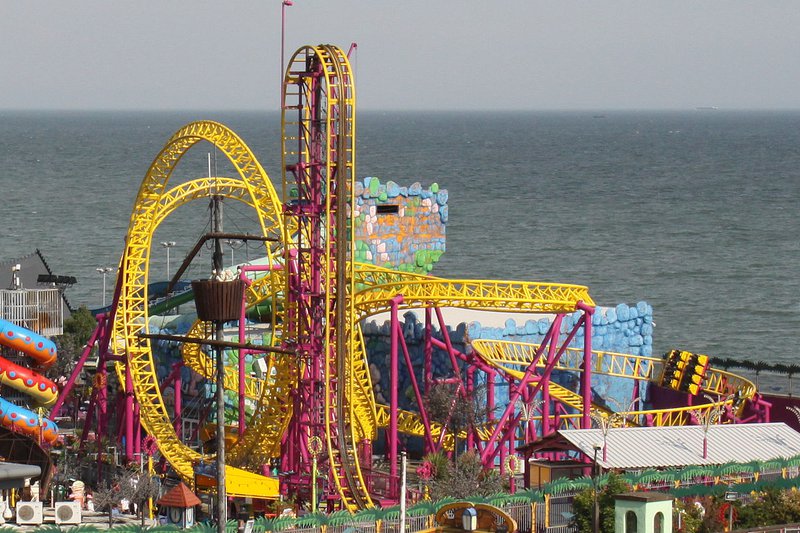 Southend on Sea
Southend has a more stony beach and attractions including Adventure Island, museums and shops!
You can get the train to Southend Central from London Fenchurch Street and the station is in the town centre and the beach is a short walk away.
Posted by Grace Romero on 16 Jul, 2021