Shaving foam activity!
Shaving foam activity!
Posted by Kate Traynor
Hi everyone it's Mena from MumSpace sharing with you a fun activity to do at home with SHAVING FOAM!
Check the video out and let me know how you get on!
Remember, it doesn't have to be perfect but it has to be FUN!
Playing with shaving foam is not something a lot of us would normally do! With limited space inside the home and no outdoor space, this activity is ideal and easy to clean up!
Foam play develops hand-eye coordination and fine motor skills. It is a calming and relaxing activity to do with a baby. Let your baby lead as they play (supervised) near you and use encouraging voices and facial expressions. You can talk about how it feels, make patterns/shapes/letters or add some colour! Its also about spending quality time together and giving your child your full attention.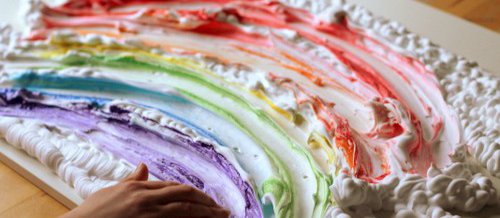 This type of play will help your child get used to being messy and it will make it easier during the transition into nursery. If after encouragement your child still does not want to touch the foam you can always use spoons, wear gloves or put the foam in a sealed bag!
Please supervise their play and check the type of shaving foam and choose one that's right for your child and their skin type. 
Most of all HAVE FUN!
Posted by Ana Ramirez Mourraille on 11 Jun, 2020