Mindful Parenting - tricks to stay calm, a video with Abie
Mindful Parenting - tricks to stay calm, a video with Abie
Posted by Kate Traynor
A few years ago some of our PACT parents did a course called Mindful Parenting. It was all about techniques to cope and remain calm in the face of day to day stresses when looking after our children.
One of our PACT mums Abie who took part in the course, shares with Imogen, a technique she found really helpful.
Being a parent is full of joy but the challenges of parenting can produce considerable stress, especially during lockdown. 
The Mindful Parenting course helped parents to take a moment to pause, to see their children in a different way and to also get some headspace of their own. Lot's of parents said it really helped.
Over the next few weeks, Abie a parent who took part in the course, is going to be sharing with Imogen, a new mum with a one year old, some of the techniques she found really helpful. 
Today's technique is all about eating a raisin, see Imogen giving it a try:
Mindfulness helps us tune into what we're sensing and experiencing in the present moment—it's the ability to pay more careful attention to our thoughts, feelings, and bodily sensations, without judging them as good or bad. Research suggests that it can not only reduce stress but also increase our experience of positive emotions.
One of the most basic and widely used methods for cultivating mindfulness is to focus your attention on each of your senses as you eat a raisin. This simple exercise is often used as an introduction to the practice of mindfulness. In addition to increasing mindfulness more generally, the raisin meditation can promote mindful eating and foster a healthier relationship with food. Try it with a single raisin—you might find that it's the most delicious raisin you've ever eaten!
The Mindful Parenting Course is based on this book: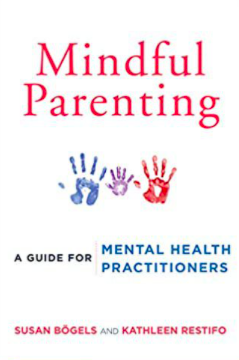 For more about Mindful Parenting and Mindfulness you could also check out:
https://www.headspace.com/mindfulness/mindful-parenting
https://www.nhs.uk/conditions/stress-anxiety-depression/mindfulness/
https://www.mind.org.uk/information-support/drugs-and-treatments/mindfulness/about-mindfulness/
Posted by Ana Ramirez Mourraille on 3 Apr, 2021