Family Food Club Online 3rd July
Family Food Club Online 3rd July
Posted by Layla Meerloo
At the Family Food Club this week Deshni showed us how to make her delicious kebabs wit chickpea raita/yogurt dip, and it was surprisingly easy! Hayley has also shared a recipe for a bacon and leek pie...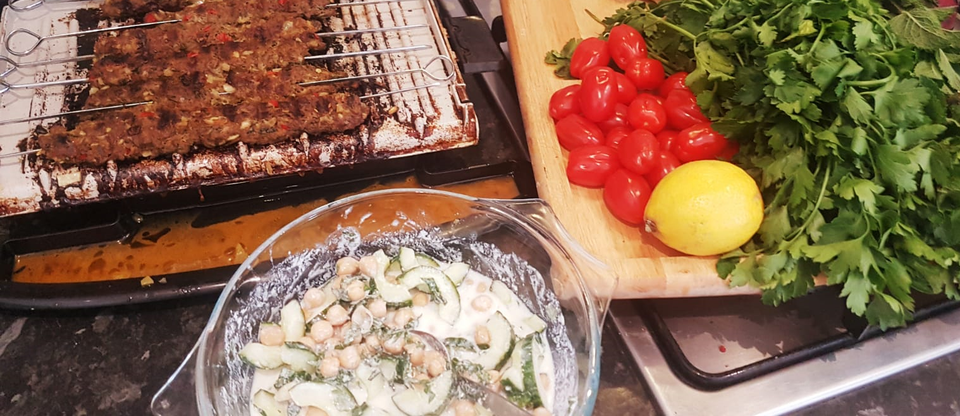 Deshni's Delicious Kebab Recipe
This is a great recipe to prepare for the family because it feels special and is easy for little hands to grab hold of! Plus you can accompany it with whatever you fancy, pitta bread, rice, salad...
Ingredients for 8 – 10 kebabs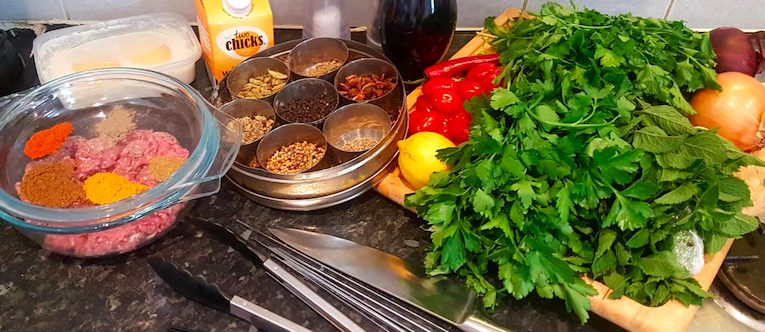 Ingredients:
500g minced lamb (or other minced meat or potato)
2 Cloves garlic
1 Onion
3cm Ginger
4 Chilies (to taste)
Handful fresh coriander (and or mint)
½ Teaspoon ground coriander
1 Teaspoon ground cumin
1 Teaspoon cumin seeds
½ Teaspoon black pepper
½ Teaspoon turmeric
½ Teaspoon garam masala
½ Lemon
1 Tablespoon oil
Salt to taste
Method
Place the minced meat in a bowl (if you are using potatoes cook them until they are soft and place them in a bowl)
Finely chop the onion, chili, fresh coriander (mint if you are using it), grind or grate the ginger and garlic, crush cumin seeds if you are using them, and add it all to the meat
Add all of the dry spices, a squeeze of lemon, some salt and some oil to help combine the ingredients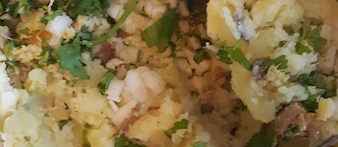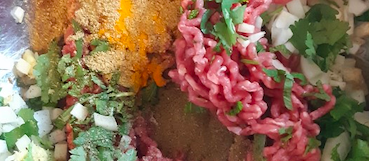 Mix all of the ingredients together with your hands until they are combined (this is the same with potato, it should mash in your hands)
If you have kebab sticks mold it around the stick, if you don't you can make patties or burger shapes with the mixture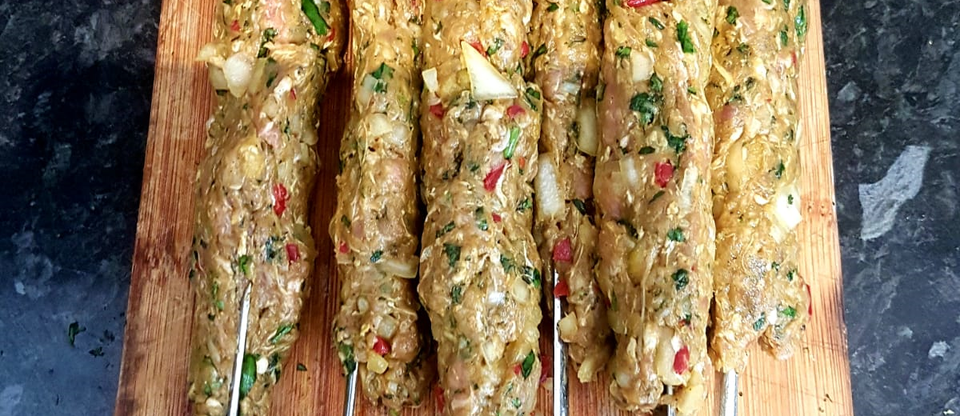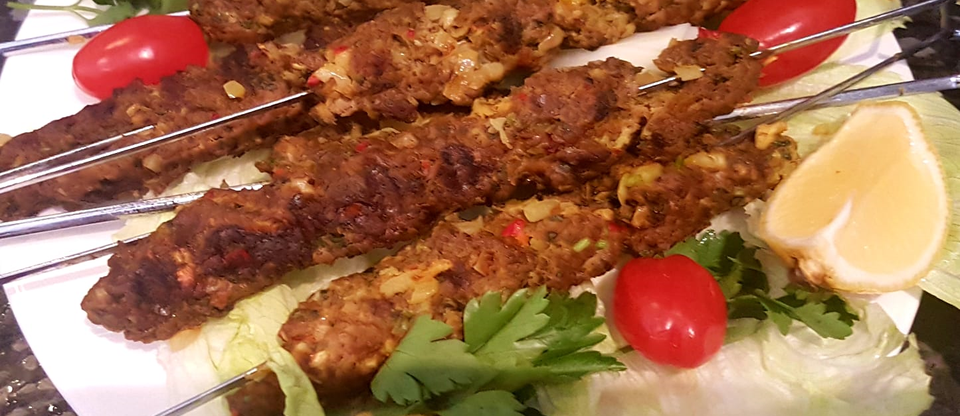 Cook it under the grill or in the oven from approximately 15 minutes, turning it once, you can also fry it if don't have an oven 
Meat kebabs with the potato kebab recipe on the side: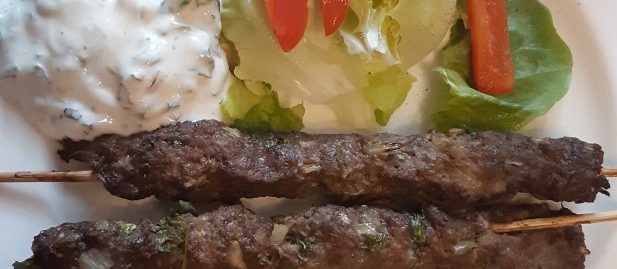 Chickpea Raita/Yoghurt Dip Recipe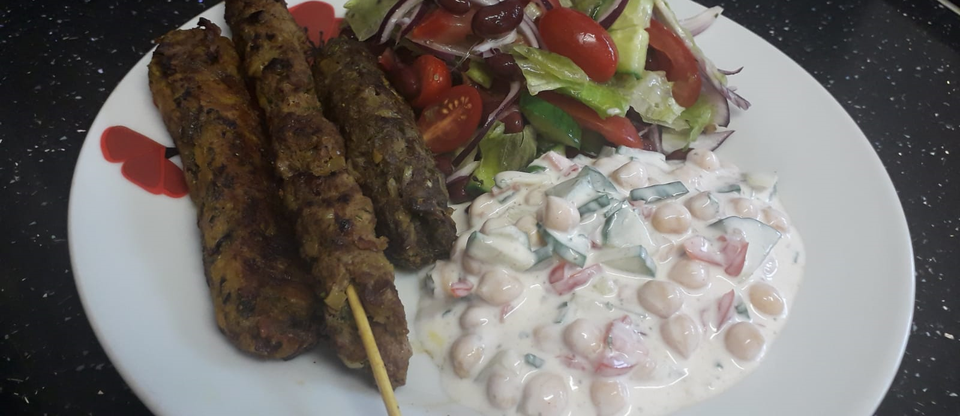 Ingredients
4 Large tablespoons of natural yoghurt
Mint
Chickpeas
Add: tomato, cucumber, ¼ teaspoon of salt, ¼ ground cumin, ¼ ground coriander, ¼ chili powder (to taste)
Method
Finely chop the mint, chop tomatoes and cucumber if you are adding them
Drain the chickpeas
Add all of the ingredients to the yoghurt with any seasoning and serve
Hayley's Bacon and Leek Pie
This week Hayley shared her recipe for delicious pie she made for her family. This pie can be adapted for any fillings that you would want to use.
Ingredients:
Bacon
Leek
Teaspoon oil
Pastry (ready made or make your own!)
1 Egg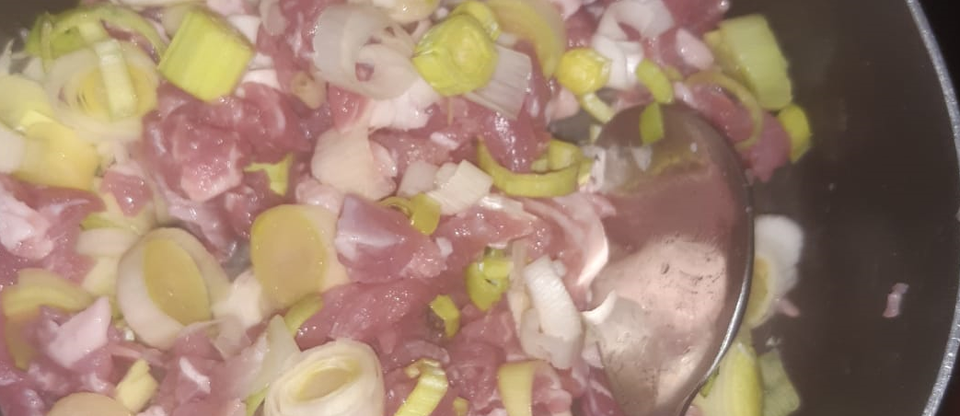 Method
Step 1: Slice the leek and bacon
Step 2: Heat oil in a pan and add bacon and leek
Step 3: Once cooked through put it aside to cool
Step 4: Roll out pastry then add cooled filling
Step 5: Carefully roll the pastry up so it doesn't break
Step 6: Beat a egg then brush it onto the pastry to seal the pastry
Step 7: Fold the ends closed
Step 8: Use the remaining egg to glaze the pie
Step 9: Place in oven for 30 – 40 minutes until it has browned and serve!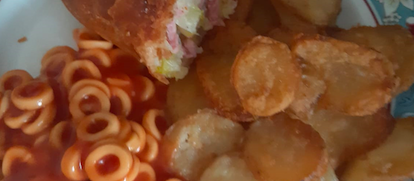 Posted by Ana Ramirez Mourraille on 3 Jul, 2020