Cooking with Josephine!
Cooking with Josephine!
Posted by Wilhelmina Perry
Josephine shows us how to make her families favourite dish, it's really adaptable to anything you have at home.
Keep reading to learn how to make her Family Favourite Pasta and her Bean Stew!
Josephine's Family Favourite Pasta Recipe
Serves: 4
Cooking time: 50 minutes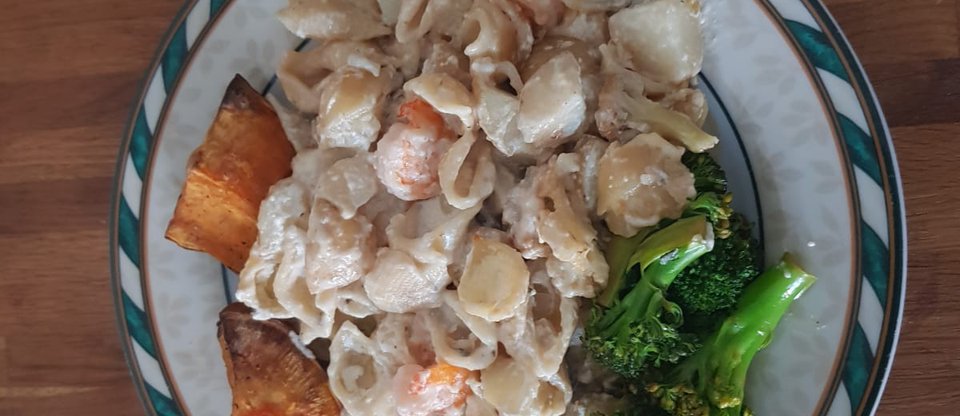 Ingredients
1 Onion, chopped
2 Garlic cloves, chopped​
2 Handfuls mushrooms, cut in four
2 Handfuls cauliflower, chopped (or other vegetables of choice)​
4 Handfuls pasta shells
​4 Handfuls potatoes, cut into roughly 1inch cubes 
​Handful prawns or diced boneless chicken or Quorn​ pieces (for your protein!)
1 litre lasagne sauce (white sauce) or natural yoghurt​ (this one can be homemade)
1 Handful grated cheese of your choice​
To make white sauce:
Fry some onions in a bit of butter until brown.
Add 1-2tbsp of flour and keep stirring.
Reduce the fire and add milk a little at a time. It is better to stir this in with a whisk to break it up effectively.
Stir for 5-10 minutes until it is at boiling point and then turn off the heat.
To cook:​
Parboil potatoes and set aside​
Boil pasta shells but don't let them get too soft. Set aside.​
If using chicken or Quorn pieces brown and set to the side​
Fry onions and garlic until tender​
Add protein of your choice, pasta, potatoes and sauce or yoghurt and veg and black pepper. Season to taste.
After a few minutes turn off the heat and add cheese on top. Cover with foil and put in preheated oven for about 40 minutes.
Uncover and brown for 5-10minutes. Remove from oven, let stand for 5min and serve.​
Bean stew Recipe 
Ingredients:
Tinned beans or raw beans and soak overnight. Boil until soft.
Onions
Garlic
Carrots
Aubergine
Peppers (red, green, yellow)
Tinned tomatoes
Curry powder of your choice
Paprika
Salt and pepper
To prep & cook
Finely chop onions, garlic
Chop carrots and aubergine and peppers in medium chunks
Fry onions and garlic on low heat until tender and brown
Add carrots, cover stirring occasionally for about 10min
Add peppers and aubergines. Again cover stirring occasionally for another 10 min.
Add tinned tomatoes and again cover stirring so that it does not stick/burn for another 10min
Add curry powder, paprika, and season with salt. Cover and stir for another 5min.
Add beans without any liquid first and stir in for 5min.
Add liquid to desired thickness
Bring to boil and simmer for 5min.
Turn off the fire and leave to sit for about 10minutes before serving.
Posted by Ana Ramirez Mourraille on 2 Apr, 2021