Celebrating Black History Month at the Family Food Club
Celebrating Black History Month at the Family Food Club
Posted by Layla Meerloo
A truly delicious way to celebrate the culture and traditions of Nigeria in the UK - Omotola and Shakira teach us their tasty Efro Riro and Swallow recipes.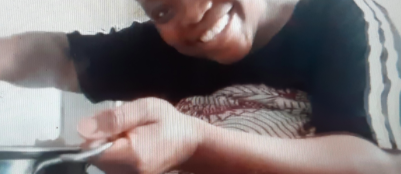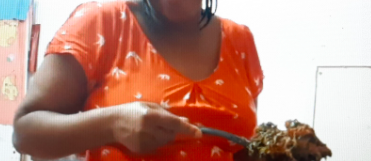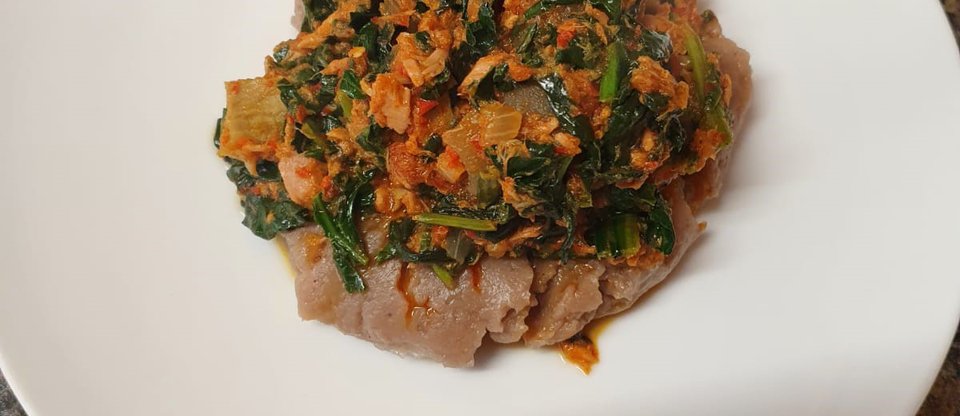 Omotola tells us why she chose to teach us Efo Riro
Efo (green leafy vegetables) Riro is a rich vegetable soup that is native to the Yoruba people of South-Western Nigeria. Some people cook Efo Riro as a special delicacy for visitors on special occasions  because everyone is looking forward to having it either as a meal or garnish alongside with other food.
As a Nigerian Yoruba living in London, I found it easy to make this rich healthy delicacy because the ingredients are readily available both in our local market and stores.
Add Efo Riro to your menu today and serve it with steamed rice, boiled plantain, boiled yam, sweet potatoes, pasta ,wheat flour, yam flour and pounded yam.
Lastly, Efo Riro is vegetarian friendly.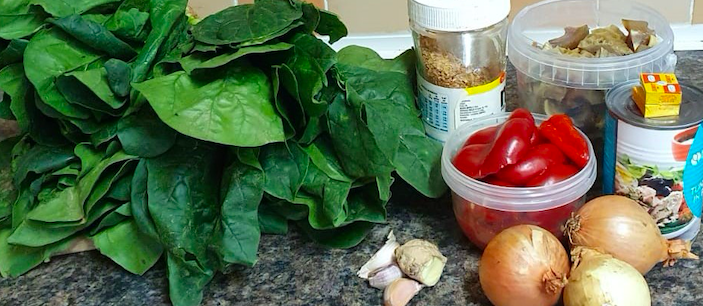 Ingredients
500g Spinach
2 Large spoons oil
2 Large bell peppers (preferably red)
Chili pepper (preferably scotch bonnet)
3 Medium onions
Thumb size piece ginger
3 large cloves garlic
Chicken /mackerel/beef/tuna/shaki (or any preferred protein)
Crayfish (optional)
2 Stock cubes
Method
1- Wash and chop the bell pepper, chilli, garlic, 2 onions and ginger
2- Blend the ingredients with half a cup of water until it becomes a paste
3- Chop the spinach and wash thoroughly, set aside
4- Dice 3rd onion
5- Put a pan on a low heat and add oil, once heated add the diced onion
6- After cooking the onion for a few minutes add the paste and cook on a medium heat with a lid for approximately 10 minutes or until the paste has thickened
7- Once the mixture has thickened you can add any protein you would like (make sure that it has already been cooked thoroughly if necessary)
8- Add stock cubes and mix
9- Add crayfish (optional)
10- Add spinach and allow to cook for a few minutes, then it's ready to serve
Swallow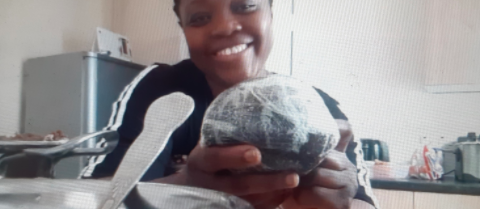 "The term "swallow" is widely used in Nigeria to describe starchy foods that are cooked to a dense paste and eaten with various soups. They are called "swallows" because of the method of eating, i.e. using your fingers, take a morsel of paste, dip it in soup and swallow it. Other popular names for swallow are okele (a Yoruba word) and ilo ihe (an Igbo word) and bolus (from the latin, ball, meaning a mass of food ready to swallow")."
Ingredients
300g Flour – yam, plantain, wheat (Shakira used plantain flour, Omotola used yam flour and I used wheat flour)
500ml Water
Method
Mix flour with small amount of cold water to make a paste
Heat water in pan until it boils
Add paste and continually mix until it becomes thick and sticks to the spoon
You can wrap balls of swallow in cling film to save it for later or eat it once it has cooled a little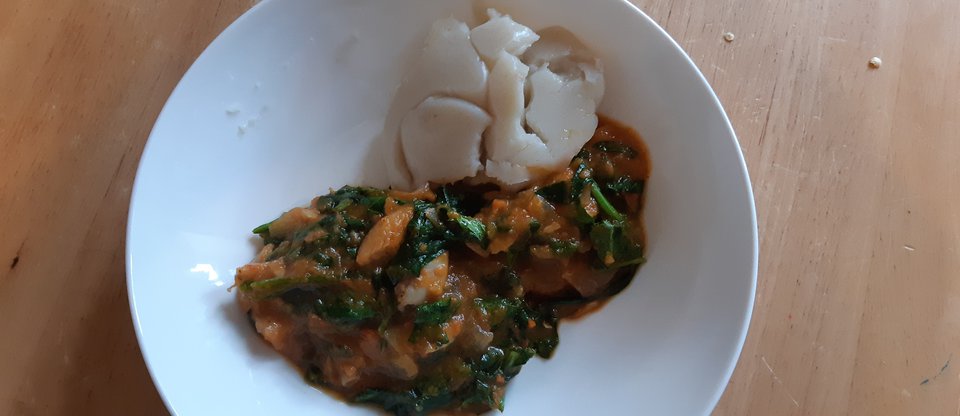 Posted by Ana Ramirez Mourraille on 9 Oct, 2020